Pressotherapy is not only used to reduce skin imperfections: it is a non-invasive therapeutic technique, widely used in clinical (and aesthetic) settings to promote proper lymphatic and venous circulation in the upper and the lower limbs.
Also known as intermittent pneumatic compression, it improves the functioning of vascular and lymphatic systems in the limbs and abdomen, and drains body fluids, bringing oxygen to the tissues and eliminating toxins.
If this is the first time you have heard of this therapy, don't worry, we have prepared this article so that you can better understand what pressotherapy is and what it is used for.
What is pressotherapy and how does it work?
Pressotherapy consists of a pumping system delivered by special accessories equipped with air chambers. These chambers get inflated alternately, pushing fluids from the extremities of the limbs inwards, exerting a mechanical massage that stimulates and increases the efficiency of lymphatic and venous circulation. In practice, the device reproduces the mechanism of controlled compression on the limbs and the abdomen, with a distal-proximal movement (from the periphery towards the centre), simulating a manual lymphatic drainage massage.
The effectiveness of pressotherapy is recognised in the medical field, and its benefits have been confirmed in many clinical studies for the treatment of venous ulcers and the prophylaxis of deep vein thrombosis (DVT). Not to mention the fundamental role of pressotherapy in the integrated treatment of lymphoedema.
The compression and decompression system of pressotherapy has the effect of massage, promoting the body's natural functions, venous return and thus the elimination of waste substances from the body – with the additional result of a leaner, more toned body.
A great way to combine a pleasant moment of relaxation with effectiveness of therapy.
So, when is pressotherapy indicated?
This therapy is ideal for treating conditions such as:
oedema
lymphoedema
venous ulcers
venous insufficiency
muscle recovery
Now that we have clarified what pressotherapy is, let's see where and how it can be carried out.
If you suffer from circulation problems and fluid retention, pressotherapy is an indispensable ally.
Typically, these conditions cause severe pain in the affected area, reduce mobility and can create emotional disturbances such as insecurity and depression.
It is precisely in order to limit the "adverse effects" that one has to take action as soon as possible, following the advice of the attending physician and of a specialist (vascular surgeon or aesthetic doctor).
Most often these conditions affect the lower limbs, but oedemas and lymphoedemas can also affect the arms.
In addition, pressotherapy can treat conditions affecting the back and the abdomen: in this case, simply apply an abdominal band to the affected area. In most cases, these areas are treated after intense physical activity or for lymphatic drainage purposes.
Here are a few preliminary remarks: in this article we will talk about medical devices certified to treat diseases of the lymphatic and venous system.
These products, for example, reduce water retention, as in the case of oedema.
Our devices are not designed for aesthetic purposes, however, pressotherapy is also popular in the beauty sector to reduce cellulite and eliminate the sensation of heavy legs.
Pressotherapy treatments can be carried out in the comfort of your own home. Nevertheless, we always recommend that you consult your doctor so that you can undergo treatment according to the parameters best suited to your condition.
If your doctor has not given you specific instructions, don't worry, you can always contact us to find out which values to check and which pressotherapy device is best for you.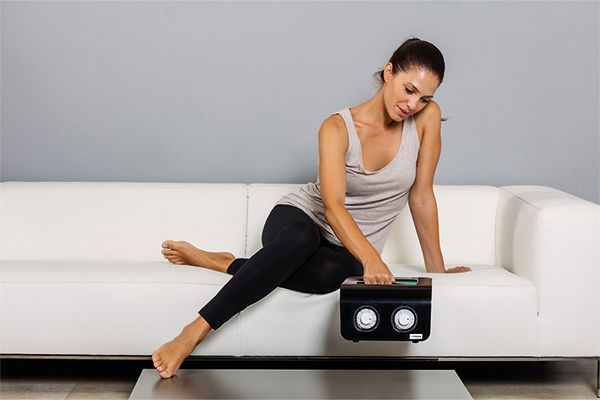 How do you have to dress?
If you own a pressotherapy device and you use it at home, you can safely do therapy wearing underwear or the hygienic NWF protectors that come with the device accessories. You could also wear clothes made of organic fabric, as long as they are tight-fitting.
Therapy is normally recommended once a day for a 30-day cycle. As mentioned above, the timing and value of the pressure varies depending on the pathology detected (treatments that can be carried out with our devices last between 20 and 60 minutes).
In the next paragraph we will see how to set up and perform a correct pressotherapy session.
PRE-TREATMENT
If you are wondering whether a certain procedure needs to be followed before having a pressotherapy session, the answer is no. In fact, there are no clinical studies that establish a precise pre-treatment procedure.
HOW TO SET UP THE TREATMENT
Here are the steps to correctly start the pressotherapy treatment – which is very easy with our devices!
Connect the pipe connector to the machine body. If you are connecting only one accessory, you only need to connect the connector for the hose with 4 terminals. If you are using two accessories, you need to connect the connector for the hose with 8 terminals. If several accessories are used simultaneously, adapters must be used.
Connect the hoses to the sockets on each legging, abdominal band or cuff.
Connect the device to the power outlet.
Wear the applicator chosen for the treatment. Caution: always remember to close the legging or the cuff with the Velcro seal to prevent the zip from opening during inflation.
Set the pressure.
Start the therapy by setting the therapy time in minutes.
Now you can enjoy your massage!
Remember that you are doing the session correctly if the massage sensation is pleasant and not painful. If this is not the case, we advise you to stop the treatment and contact your doctor.
POST TREATMENT
At the end of the treatment you may feel the draining effect of the pressotherapy: in addition to a very pleasant sensation of relaxation, you may feel the need to replenish the liquids eliminated or to urinate… Don't worry, everything is normal!
What are the benefits of pressotherapy?
The therapeutic benefits are mainly related to improving venous circulation, relaxing muscles and reducing swelling in the limbs. In fact, pressotherapy works not only for cellulite!
In the case of chronic lymphoedema, pressotherapy is an excellent ally for reducing blood stagnation in vessels or in poorly irrigated areas of the body, thus reducing pain. According to some scientific studies, the first benefits in the treatment of lymphoedema occur already after 2 weeks.
In the case of oedema and associated symptoms, however, significant improvements occur after one month of treatment. (Read more about the study here)
The main benefits of pressotherapy are:
reduction in swelling
improvement of lymphatic and venous circulation
prevention of stagnation of substances in the tissues of peripheral areas
muscle toning
immediate feeling of well-being and pain relief.
Contraindications of pressotherapy
Incorrect use of the pressotherapy device can lead to undesirable side effects, causing damage to health. This is why we have identified situations and physical conditions in which we do not recommend pressotherapy:
people with implantable medical devices;
people suffering from pulmonary oedema, heart attack, phlebocarcinoma, high blood pressure, high fever;
people suffering from burns, dermatitis, purulent wounds, malignant tumours, etc;
people who underwent surgery on the skin within the treatment area;
people suffering from serious circulatory disorders, such as hardening of the arteries, angina, heart attack, etc;
people suspect of blood clots;
people with severe malformations or who wear prosthesis (or other means of synthesis) in the treatment area;
patients who have undergone surgery for the treatment of varicose veins;
patients who have just undergone surgery, pregnant women, children;
Once again, we remind you to consult your doctor before starting the pressotherapy treatment, especially if you fall into one of the above-mentioned cases.
Is pressotherapy suitable for everyone?
Pressotherapy is suitable for everyone over 18 years of age who does not fall under the above contraindications (unless otherwise advised by your doctor).
It must always be kept in mind that compression on the legs, arms and abdomen must have a pleasant effect, like a massage, and must not create pain.
If this is not the case, we advise you to stop the treatment and contact your doctor immediately.
After how many sessions can results be seen
It is always difficult to generalise, partly because it is usually the doctor who determines the course of treatment on the basis of the prognosis.
Our devices and programs, based on clinical studies published in the literature, have shown that a cycle of pressotherapy lasts at least 30 days.
In the case of fluid stagnation, the result after a cycle of pressotherapy will be a reduction in the volume of the leg, arm or abdomen.
However, in the case of leg fatigue or lactic acid resulting from intense physical activity, the benefits can be seen after just 1-2 applications.
Pressotherapy treatments can be carried out in specialised clinics, beauty centres or at home. Yes, you read that right!
In fact, there are pressotherapy devices on the market that are designed specifically for use at home.
CE-certified, simple and intuitive medical devices.
Having a pressotherapy device at home will allow you to do therapy whenever you want, saving time and money. 
Why money? As you know, there are many specialised studios and beauty centres where you can have a session. Typically, the cost of a pressotherapy session is around €50. Not to mention the "indirect" costs such as travel and the time it takes to get to the clinic, have the treatment and return home.
What could be better than a comfortable pressotherapy session in the privacy of your own home?
You can do this with our device I-Press, depending on your needs.
I-Press: is our new pressotherapy, completely Made in Italy. It consists of a machine body, leggings, cuffs, abdominal band, depending on the configuration you choose. The device is very intuitive and easy to use, in just a few steps you can start your treatment! The price for this model starts at €499.
I-Press can be purchased in health care, orthopaedics, pharmacies and through our online retailers, including on Amazon!
Please note that we do not sell directly, but we can support you before, during and after your purchase by guiding you in choosing the most suitable device for your needs.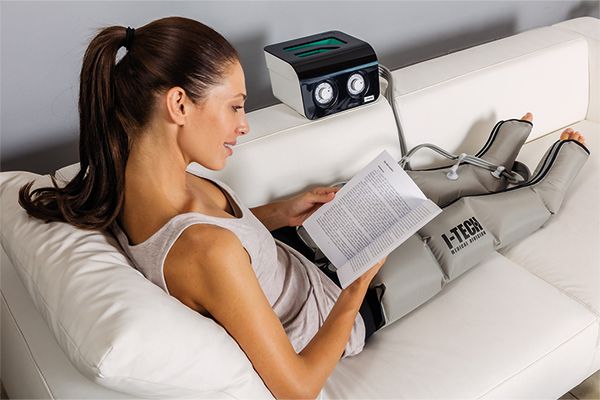 Pressotherapy at home is now possible, thanks to certified medical devices designed for home therapy.
You can do your treatment while relaxing on the sofa at home, perhaps while reading a book or watching your favourite series.
All you have to do is follow the step-by-step instructions provided by your doctor or, in the absence of a doctor, the instructions in the user manual that you will find inside the box of your device.
Once the accessories are connected to the hoses and the hoses to the machine body, you simply put them on and set the time and pressure values. A few steps and you can start your pressotherapy session.
Doing therapy at home has never been easier, and you will also enjoy numerous benefits, including:
the possibility to have therapy whenever you want,
an environment of absolute privacy in which to conduct your session,
saving time and money by doing therapy in the comfort of your home,
a substantial increase in therapeutic compliance, which will allow you to obtain excellent results from your therapy.