If you are wondering how much pressotherapy costs, you are in the right place. In this short but practical article, you will find all information you need on the costs of a pressotherapy session.
We will also provide you with valuable information that will allow you to weigh up the idea of buying a home device, to do therapy where and when you want, and cut the costs of a cycle of pressotherapy sessions at a beauty centre.
Enjoy the read!
What is pressotherapy, and how much does a pressotherapy session cost?
Pressotherapy is a physical therapy that uses a controlled compression and decompression system to exercise a pleasant massage on the limbs and abdomen, promoting improvements in the body's circulatory and lymphatic systems.
In particular, pressotherapy: reduces swelling, improves lymphatic and venous circulation, prevents fluid stagnation, tones muscles, and offers a sensation of immediate lightness and pain relief.
It is therefore ideal for the treatment of edema, lymphedema, venous ulcers, and venous insufficiency. Not only that, it also relieves the common feeling of heavy legs, and can help reduce water retention.
So how much does a pressotherapy session cost?
The average price of a pressotherapy session is around € 50. There are many factors that determine this price. Let us see which they are.
Factors that affect the price of pressotherapy
The cost of a pressotherapy session can vary according to: 
the duration of the session,
integration with other treatments,
geographical location.
For this reason we can find different prices: lower than € 50, up to € 100.
Is it better to do pressotherapy at home or at a beauty centre?
If we consider that the average price of a session is around € 50, and that a pressotherapy cycle includes at least ten sessions, we quickly arrive at the conclusion that 10 pressotherapy sessions cost around € 500.
This is without counting indirect costs, such as the fuel or public transport costs and travel time to reach the specialised centre, considering that a pressotherapy session lasts at least 20 minutes, and that generally 2 sessions a week are recommended (though pressotherapy can actually be done every day). What is more, carrying out the treatment at a beauty centre means having to adapt to the opening-hours and availability of the centre.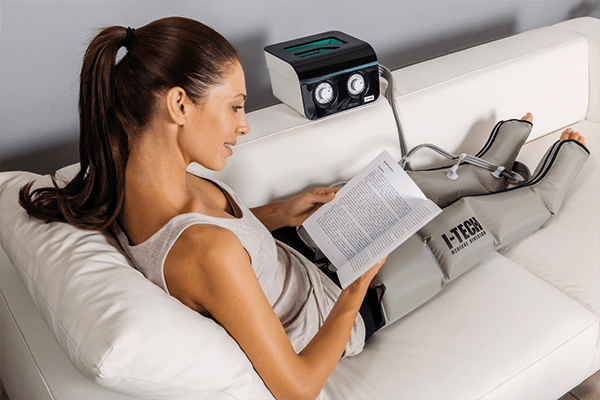 How much does a pressotherapy machine cost? Costs and benefits
Now let us see how much a pressure therapy machine would cost, and what are the advantages of doing pressotherapy at home.
Here too there is a premise: the cost can vary according to different configurations. The device, in fact, can be completed with various accessories, including leggings and armbands, and an abdominal band. Another very important factor that affects the price is its certification as a medical device, in addition to the famous CE marking.
This guarantees safety during treatment, especially if carried out at home, as it is evidence that the device has been tested for the specific intended use.
However, to give you a general idea of the cost of a device, let us talk about the I-Tech Medical Division pressotherapy device called I-Press. I-Press has a starting price of € 499 (including VAT), with the amount vary according to the chosen configuration.
Furthermore, I-Press is a 'Made in Italy' pressotherapy, which has also been used in many clinical studies, including the first in the world on home pressotherapy. 
However, this does not mean it is a professional, difficult-to-use pressotherapy machine. In fact, I-Press is extremely simple and intuitive to use. All you have to do is put on the legging or armband, or abdominal band, and set the duration of the session and the pressure. In just a few simple steps, you can start your therapy.
One of the advantages of buying a medical device for home use is being able to do therapy whenever you want, in the comfort of your own home. And you can repeat the cycle of therapy if necessary at no additional cost.
Are you still thinking about whether to go to a beauty centre or buy a pressotherapy device for yourself?
Get rid of any doubt with a simple phone call: we will give you all the information you need, and show you where to buy our I-Press. Call us now!