Reatherm is our latest capacitive-resistive diathermy model, with neuromodulation effect.
It is, indeed, the perfect ally both for therapists and for patients.
Thanks to its 400 frequencies (300-700 kHz) and to its modulation system (1-100Hz), healthcare professionals can perfectly adapt any treatment according to the patients' needs, obtaining excellent results both for acute pathologies and chronic ones.
On the other hand, patients relieve from pain faster, feeling better starting from the first session.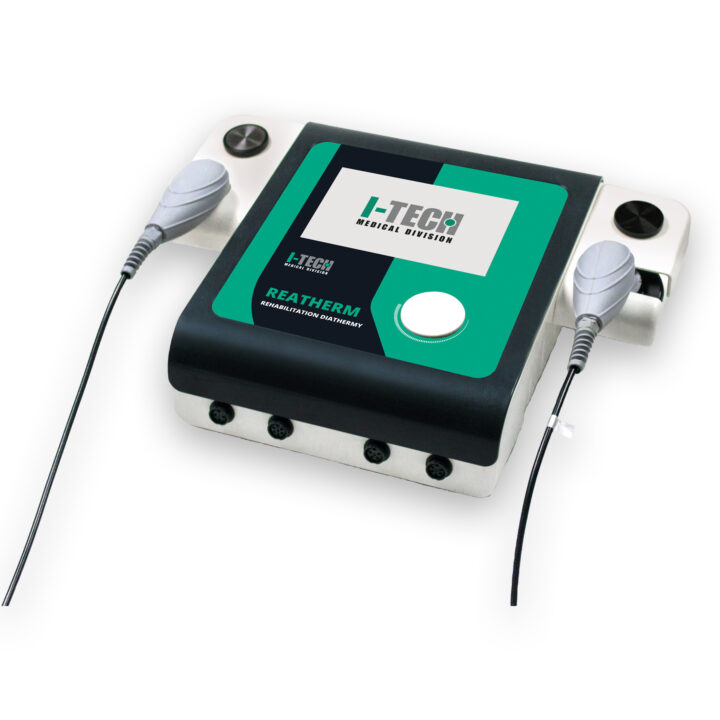 Technical Details
Power supply 110-240 V, 50-60 Hz, ±10%
Frequency: from 300 to 700 kHz
Adjustable treatment time up to 60 minutes
2 Independent channels (1 for capacitive use, 1 for resistive use)
1 channel for return plate
Machine body weight: 3,0 Kg
Maximum power up to 200 W
Modulation: from 1 to 100 Hz
Colour display
1 channel for bipolar probe
CUSTOM program
35 REHAB programs
5 BEAUTY programs
10 SPORT programs
10 Free memories
Equipment
Professional device Reatherm
1 resistive probe
Resistive electrodes (diameter: 60 mm and 35 mm)
High conductive cream
1 capacitive probe
Capacitive electrodes (diameter: 60 mm and 35 mm)
Return plate